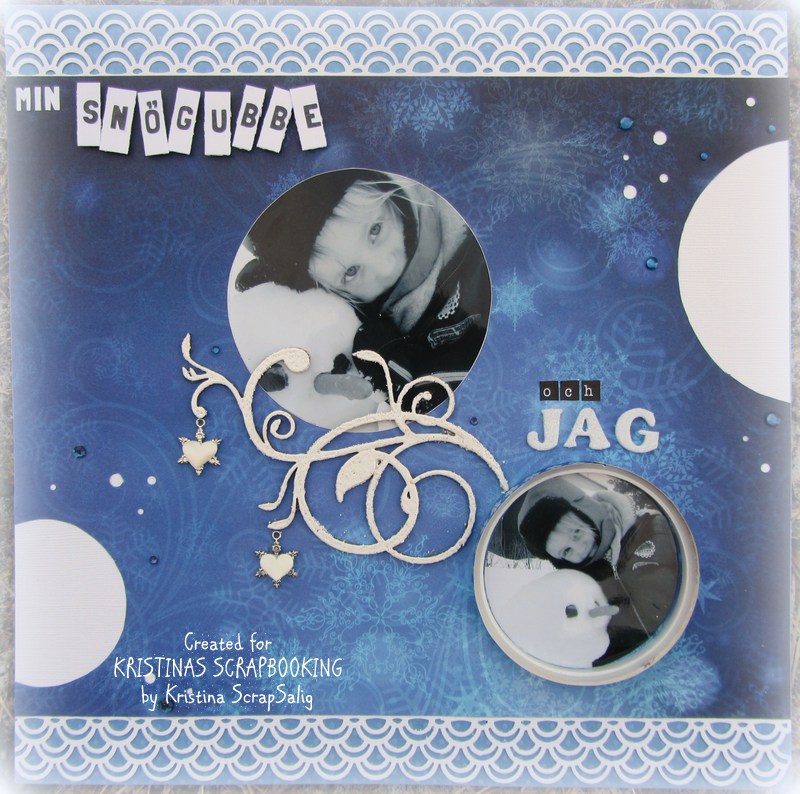 För den som ännu inte tröttnat på vinter-tema efter jul och nyårshelgerna så finns flera hissnande vackra, vintriga designark i shoppen! Jag har använt Reminisce´s Let It och passat på att scrappa ett par foton från fjolåret.
Bokstavsstickers eller dies till dina LO-titlar hittar du givetvis också i shoppen. Bara fantasin sätter gränser för hur du vill namnge dina LO-projekt.
De runda ramarna till fotona har jag skapat genom att använda det innersta lagret på tejprullar som tagit slut (dubbelhäftande tejp. Jag har sedan klätt dem på utsidan med den nedersta remsan från designarket. Rullarna är också roliga att färga in med t ex Inka Gold för att matcha projektet/LO:n.
Charmsen har dekorerats med satinhjärtan och den snirkliga trä-dekorationen har fått ett lager grovkornigt embossingpulver över sig. På tunna/små föremål underlättar det om man använder VersaMark för att få det grova pulvret att fästa innan man hettar upp det med embossingfön. Om man vill ha pulvret på ett pappersark går det bra att värma underifrån utan VersaMark!
Material från shoppen:
Designark Reminisce; Magical Christmas – Let It
Cardstock Reprint – French Vanilla
Cardstock Reprint – cardstock North Sea
Stans Martha Stewart – Double Arches LARGE Punch Around The Page
Rhinestones Inkido – Blå mix
Wood Flourishes – Vines
Satinhjärtan – Vita
Charms – Snöflinga, 25mm
Alfabet Mini Alphas, 6×6 mm – Black And White
Alfabet Stickers 5"x12", Basic Grey – Black
Alfabet Glitter Stickers, 55 delar – White Foam
Embossingpulver – Melt Art Ultra Thick Enamel, White
Dubbelhäftande Tejp 6mm bred
Distanskuddar 3Dhäftkuddar
Tusen tack för titten, hoppas att ni får riktigt härlig helg!
Kramar från DT Kristina ScrapSalig