Hejsan!
Idag tänkte jag bjuda er på en Lo som jag har gjort med gammalt kort som jag har rotat fram. Det är ett kort på mig när jag va på halloweenfest 2014 och kläde ut mig med temat day of the dead eller sugarskull.
Det roliga med min utstyrsel för kvällen är att jag har använt mig av både smink och pysselsaker. Som ni ser på bilden är jag vitmålad och det är smink men jag har använt mig av både rött stickles, röda rihnestone och svarta rhinestone swirls på bröstet. Men sedan så har jag även gjort mitt hårband av mina pappersblommor eftersom jag inte hittade någon som passade i affären.
Det roliga med denna kväll va att halloweenfesten var på ett uteställe med väldigt mycket folk och jag vann första pris för bästa ut klädnad!!
Jag har använt ett vanligt vitt cardstock som jag har mistat med svart färg och duttat lite röd stickles över på vissa ställen. Sedan har jag använt mig av en stencil och svart stämpeldyna för att göra döskallen och texten day of the dead.
Material från butiken:
Sååå nu hoppas jag att ni blev lite sugna på halloween även om det är ett litet tag kvar, men tiden går fort.
Ha en bra vecka!
Kram DT Sophie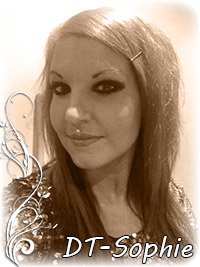 kkk