Hej på er!
Idag har jag gjort en liten söt LO att visa för er, det är vår lilla söta kusin Moa som får pryda denna söta lilla sida den här gången.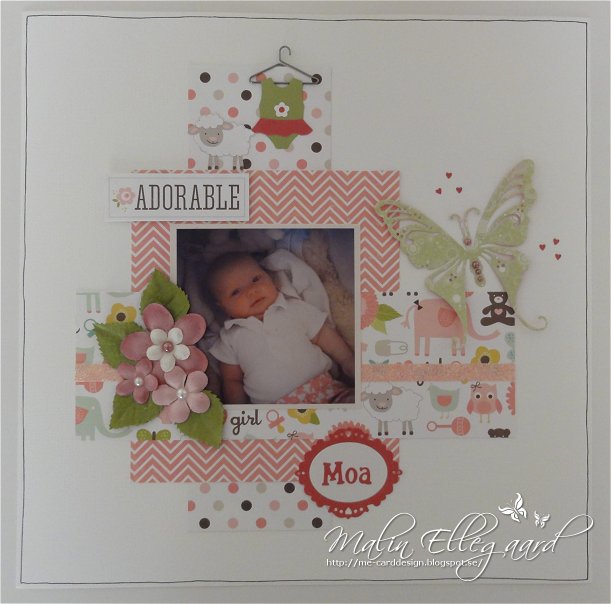 Grunden är ett vitt cardstock. Jag har sedan använt 2 papper från Echo Park och jag har använt mig av båda sidorna på papperen.Det ena heter Bundle Of Joy Girl – It's A Girl! och det andra heter  Bundle Of Joy Girl – Journaling Cards. Jättesöta papper!
På det ena papperet bakom fotot har jag även klistrat fast ett glitterband.
Jag har dekorerat med en stor fin fjäril från Magnolia som jag satt mörkrosa halvpärlor i.Längst upp har jag även använt en galge som jag klistrade fast en liten utstansad dräkt i.
Några rosa blommor och gröna blad fick oxå pryda denna lilla lo´n. I dom rosa blommorna har jag satt rosa och vita halvpärlor.
Texten adorable har jag klippt ut från ena papperet och är fastsatt med 3D kuddar för att bli lite upphöjt.
Ha nu en fin söndag.
Kram Dt-Malin